Liston College values the wonderful relationship with the wider community made up of enthusiastic and supportive past and current parents, Old Boys and friends of the School. These groups offer our families a strong sense of community; they support the school in its many endeavours; and provide opportunities to enhance the experience all of the students have while at Liston.
We hold annual events that bring together our community, including the Father & Son Breakfast, Mother & Son High Tea, Gala, PTFA initiatives, as well as Old Boys' events.
Father and Son Breakfast
LISTON COLLEGE
FATHER & SON BREAKFAST
Saturday 31 August 2019
8.30am (Doors open at 8am)
College Gymnasium
$20 per adult | $15 per student
Spot Prizes * Raffles * Breakfast
Come and hear Old Boy's and current students as they share their stories.
Special guest : D J Forbes
Registrations essential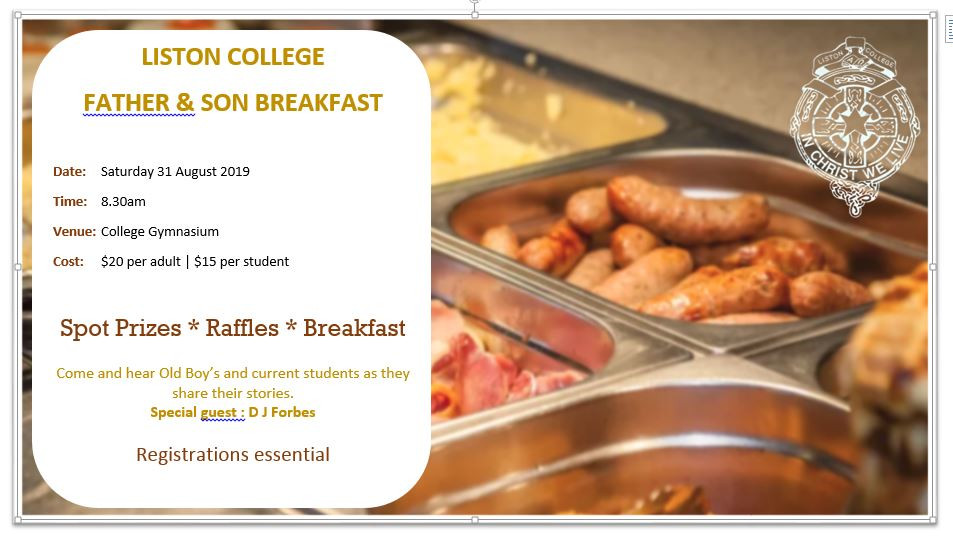 As we encourage our young men to be their best, in the classroon, Liston supporters are invited to join us for our Father & Son Breakfast held annually.
All fathers, grandfathers, uncles, older brothers, or male father figures of our current students are welcome to attend. Guests do not have to be Liston Old Boys themselves.

Mother and Son High Tea
Want a way to say "Thanks Mum" on Mother's Day?
Why not take her out for afternoon tea! "Thanks Mum" is about celebrating the mothers in our lives.
Mothers, grandmothers, aunts, older sisters or signifiant females in the lives of our students are welcome to attend. The High Tea is held annually in May.

Korero with Mike King
In August, 2016, Mike King gave three presentations to students and parents/caregivers.
He altered his approach to suit each of the audiences. We invited him to help us to engage with the community to improve mental well-being.
Parents Teachers and Friends Association - Chair: Sarah Jossevel
Old Boys' Society - Chair: Craig Buckwell